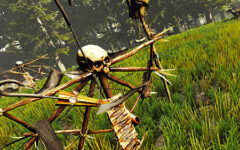 The incredible horror Forest is not the easiest game to play. That is way, cheats are extremely popular. All the gamers have a chance to enjoy numerous cool codes to help them deal with the monstrous creatures and stay alive as long as possible. They will help you activate numerous useful things, including the mode of god and iron man. To activate these cheats, you just need to type them into the title screen right after you launch the Forest game. That's all! Enjoy:
Rawmeatmode: the endless death that erases all of your previous achievements as you die;
Ironforest: all of your buildings become invincible;
Regrowmode: 10% of trees that have fallen will grow again during your sleep;
Vegetarianmode: keeps the enemies away from your shelter at night;
Veganmode: enemies will appear in the caves only;
Woodpaste: pastes the holes in wood.