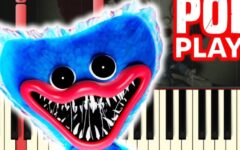 It is impossible to find more exciting horror game than Poppy Playtime. It gives a great opportunity to have a great time for all gamers. If you like secrets and mysterious things, then this game is designed for you.
Poppy Playtime is a game that successfully combines several genres at once: puzzle, adventure, and horror, as well as survival in a cruel and unpredictable world. The storyline will tell us about the existence of an abandoned toy factory, where our main character turned out to be, who now has to face numerous trials and try to save his own life. Before this factory was a famous toy company before. However, one day all its workers disappeared mysteriously. Now this place instilled fear in people. And only a man of courage can dare to sneak into this factory to find out all the secrets and riddles. Maybe this is lucky person is you.
Go to explore the mysterious environment and numerous locations, get valuable resources and clues, as well as collect the necessary information that will help you reveal the main secret and escape from this ill-fated place as quickly as possible. Yes, your mission is very dififcult. You should take on all sorts of challenges, uncover dark secrets, and develop your own skills to cope with more difficult situations. You have a lot of opportunities to achieve your goal, which you need to use correctly in order to successfully complete the mission.
Take courage and face these incredibly scary, creepy, and terrible creatures. The demonic laughter, spine-chilling faces, and abnormal bodies of these animatronics will make your blood freeze. Can you imagine that before these creatures were cute plush toys?! Unequivocally, this is not a place for the faint of heart.
As you can see, this is is a special find for those who adore to tickle their nerves and like extreme. The graphics are well thought out and able to lure any player, making him (her) part of the adventure. As well, fans of logic games will be delighted. So Poppy Playtime is sure to please everyone.