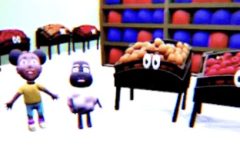 Do you like old TV shows for kids? Way before cartoons have become so popular and widespread, with all that advanced animation and graphics, they used to be shot with puppets who looked much cuter and more real than any hand-drawn characters. It was such a cozy, delightful feeling to watch them with a warm blanket tucked comfortably around you and a cup of warm milk standing right next to your favorite chair on a little coffee table… If you wanna plunge back into this amazing atmosphere, welcome to Amanda the Adventurer!
Handle all the trials together with Amanda!
Here you will meet a charming girl named Amanda. She is the main heroine of a show like that, but she is not just a puppet with no soul or mind. She is a living being and she wants to get out of the show. To do that, she needs your help. You will guide her through all the puzzles and trials that are set up for you two by the developers. Overall, there are three chapters for you to pass, each containing its own tasks. Some of them will be easy, but some may leave you scratching your head in bewilderment. Are you ready to give it a try?
Solve puzzles and complete all the tasks!
The gameplay will consists of traveling through TV show decorations together with Amanda and her sheep named Wooly. The heroine will bombard you with various questions and also ask you to complete certain tasks like forming words out of letters or looking for a certain item on the location. Dealing with them will allow you to proceed further. Note that it's a horror game, so some scenes are going to be rather disturbing!